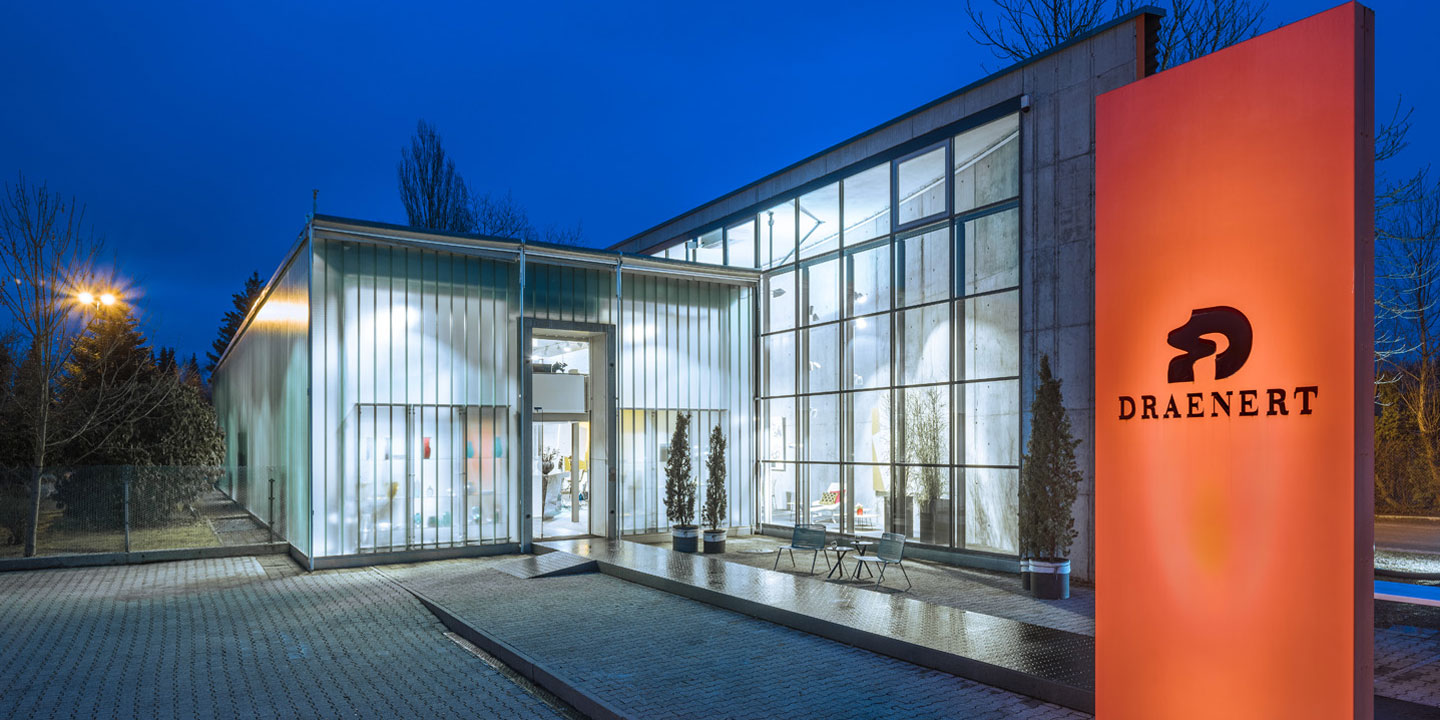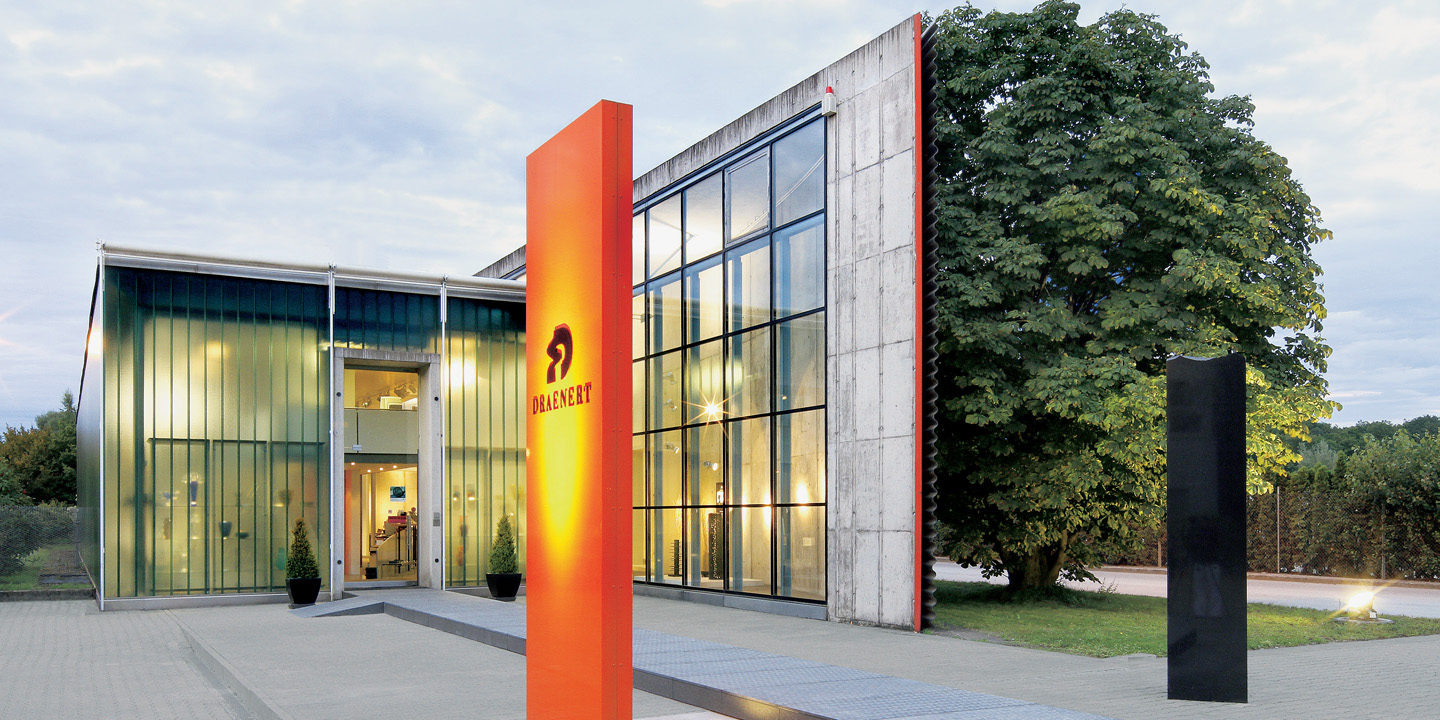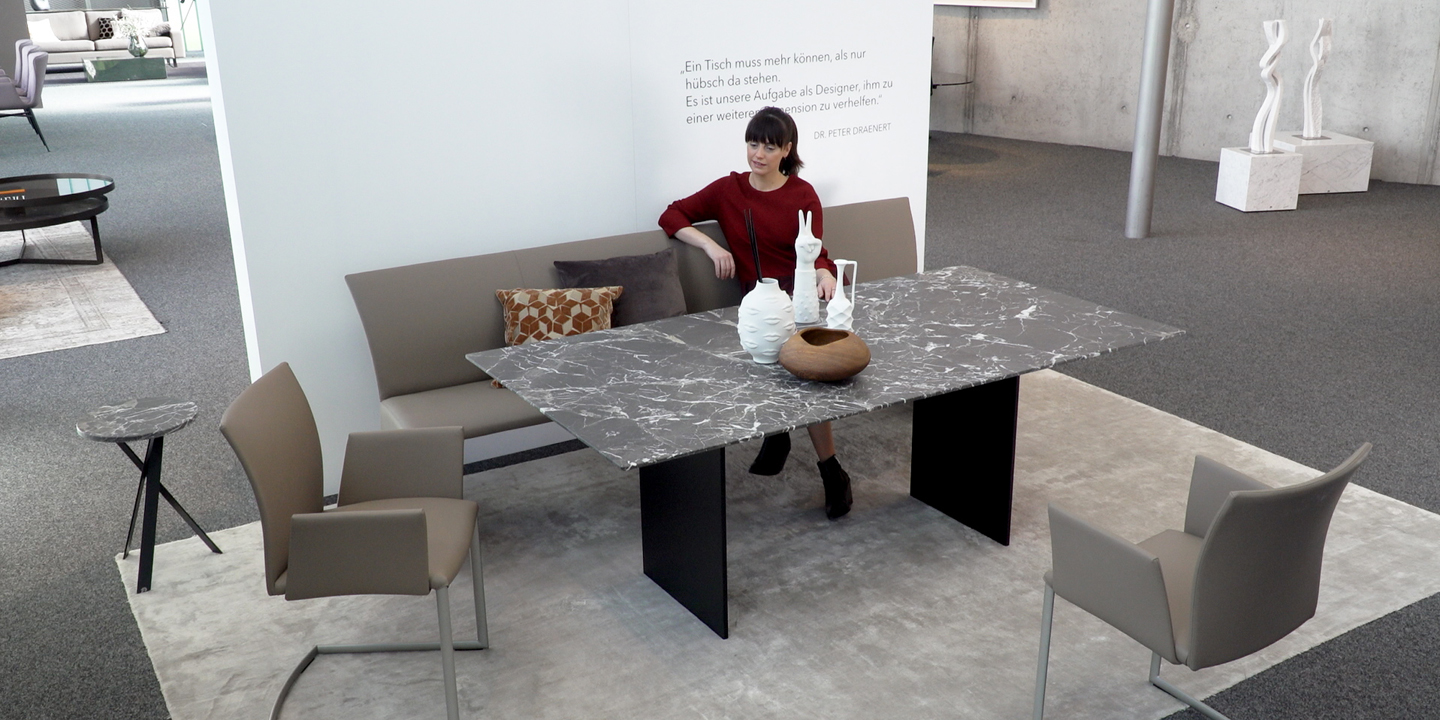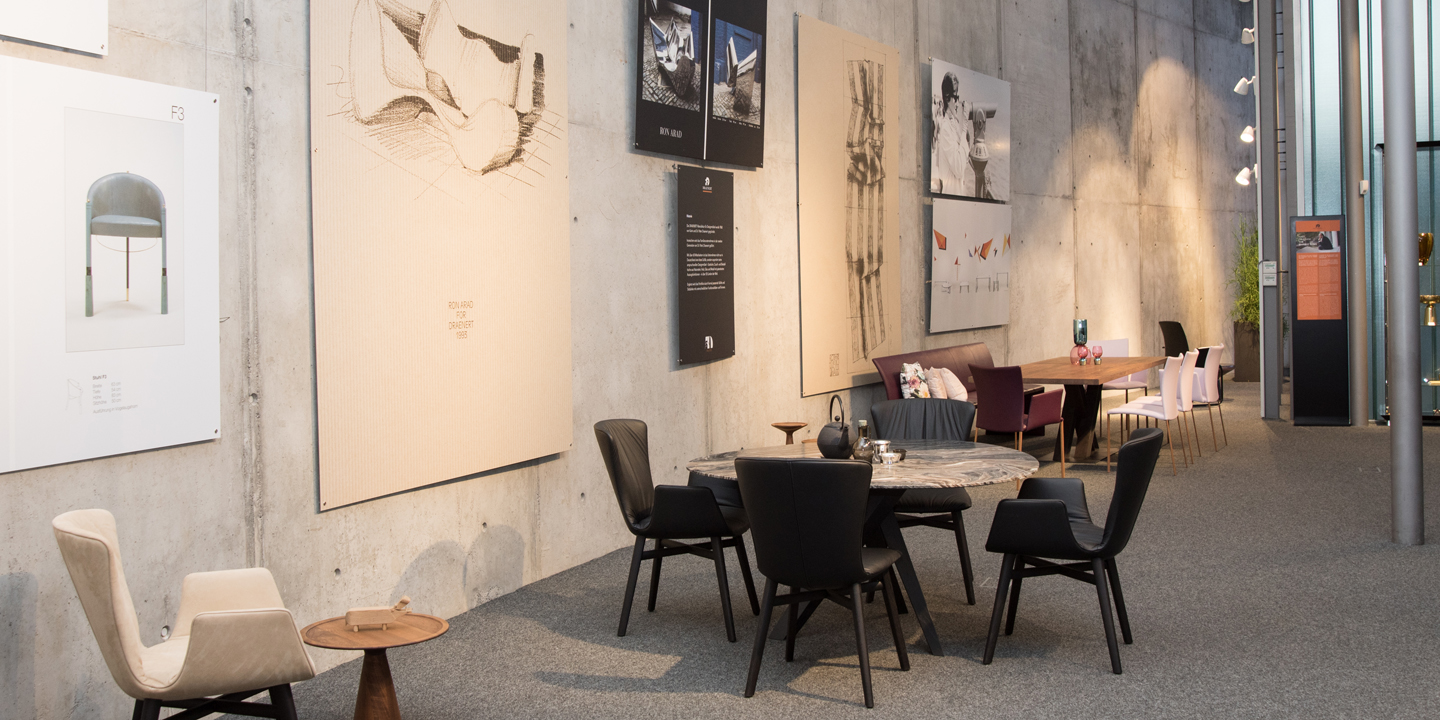 Showroom and Furniture store
The DRAENERT ORANGERIE is the showroom for the DRAENERT collection and as well a furniture store for the Lake Constance region. The showroom is open for everybody – for visitors, who like to experience both - new and established products in a unique architectural environment. Moreover the DRAENERT ORANGERIE is an information platform for architects, interior designers and for furniture stores. 

Surrounded by this architectural unique setting, we introduce to you the actual collections of the DRAENERT design furniture manufactory, as well the living styles of further top brands of the international furniture design: wardrobe systems and cabinets by INTERLÜBKE, couches and chairs by COR, high value carpets from Switzerland by RUCKSTUHL and special pieces by the German Manufacturer Miinu, or glass bowls by FAZZOLETTI and glass vases by the glass manufactory VENINI , Murano and VERREUM, Prague. In the field of outdoor furniture we offer the brands as WEISHÄUPL and DRIADE. All these brands have one thing in common: A long, craftsmanship characterized tradition and an incomparable spirit of the times.
We invite you to experience our lifestyle ensembles. We offer you competent expert advice in regard to all furnishing matters.
Furniture store with special flair 
The DRAENERT ORANGERIE - an architectural multi-award winning place - gives our furniture the space to develop and offers to our visitors the opportunity to experience and perceive our furniture with all senses. Furthermore our company is well-known as a stone specialist with a huge stone table collection.
You are cordially invited to visit our showroom as well as our fascinating stone park with more than 200 stone types from all over the world during our below mentioned opening hours – or as well - at a date according to agreement. 
How to get there
DRAENERT GMBH
Steigwiesen 3
88090 Immenstaad / Bodensee
Germany
Opening Hours
Monday - Friday 10 a.m. - 6 p.m.
Saturday 10 a.m. - 2 p.m.
Please make an appointment.
Tel. +49 (0) 75 45 / 208-39

orangerie@draenert.de
Notice:
The stone park can be visited at the above mentioned times. However, after 12 noon on Fridays and on Saturdays, no stone slabs can be moved. You only see the first slab of a stone type. Advice is of course available to you.
Your contact Person
Andrea Kern


Michaela Judt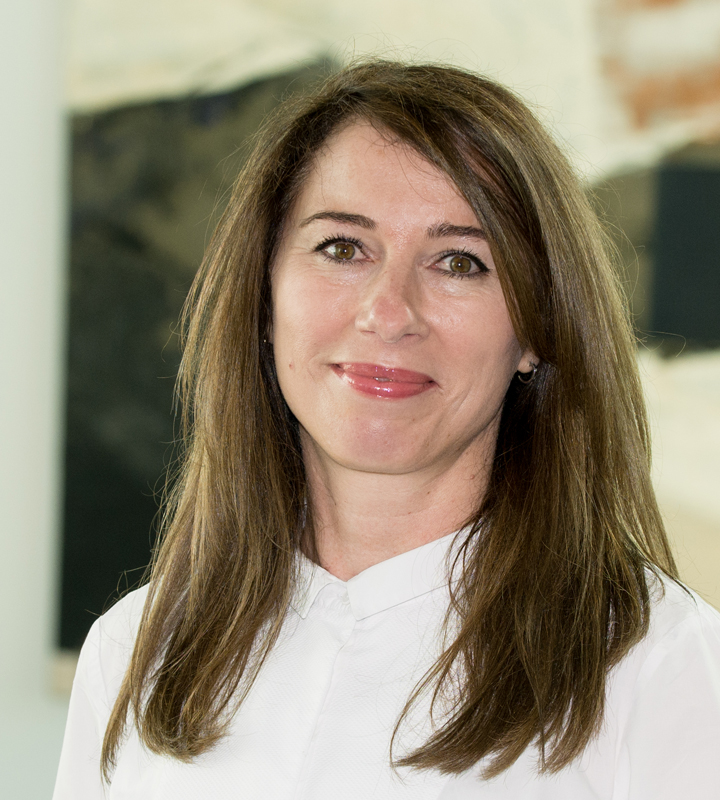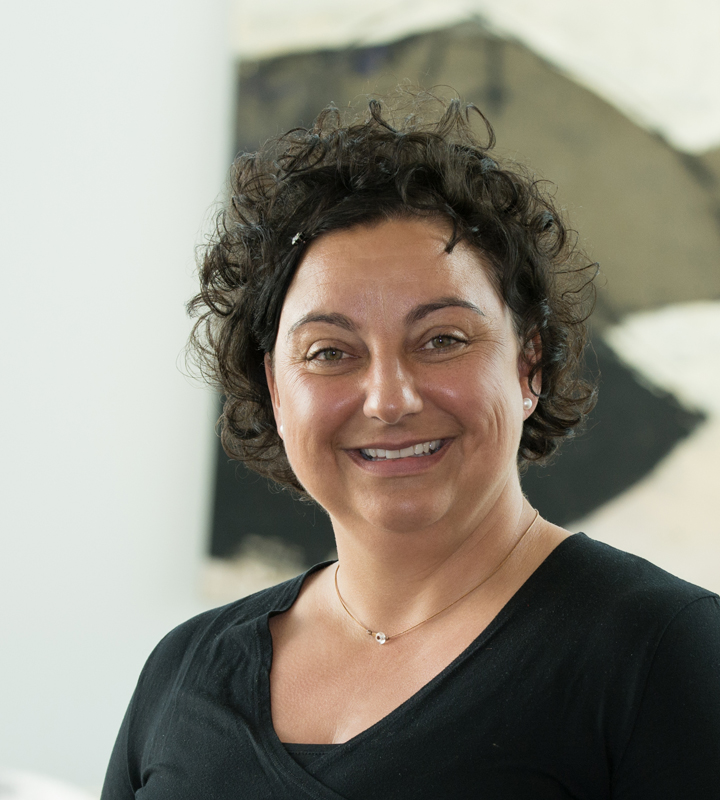 The DRAENERT ORANGERIE is as always a stage for exceptional art.
For us art is a very important source of inspiration. And our affinity to art allows us, to develop visions for new models.

Inspired by this spirit, during the last two decades a series of most noted art exhibitions have been presented – whether it is painting or sculpture. Today we regularly exhibit well-known artists or promising talents. Our architecturally unique Orangerie with walls of metres high is the perfect setting for the exhibited art and gives each time a new facet to the pieces of our collection.




50 years DRAEnert
A Retrospective


Past Exhibitions
Summary


Frank Teufel - Steinskulpturen (05.07.17-30.09.17)

Carla Chlebarov- Retrospektive (03.07.2016 - 30.09.2016)
Jörg Bach – Skulpturen und Zeichnungen (05.07.2015-30.09.2015)
Pro Community – Aboriginal Art aus den Eastern APY Lands
Martin Wolf Wagner, LIGHT & SCAPE, Fotokunst (07.07.2013 - 22.10.2013
Max Uhlig, Ölgemälde, Aquarelle und farbige Zeichnungen (07.2012 - 10.2012)
Romain Finke,  "Tiepolo" (09.2011 – 02.2012)
Kubach & Kropp, "Faszination Stein" - Steinskulpturen & Landschaftsobjekte (07.2010 - 10.2010)
Rose Sommer-Leypold zum 100. Geburtstag, "Farbe ist Leben" (10.2009 - 01.2010)
Herbert Vogt zum 90. Geburtstag, "Inseln der Dauer" (06.2008 - 09.2008)
Beate Bitterwolf, "Angekommen im Süden" (07.2007 - 09.2007)
Hans Scheib, "Was mir gefällt" (07.2006 - 10.2006)
Joachim Lambrecht, Skulpturen in Raku - Metallobjekte & Graphiken (10.2005 - 01.2006)
Harry Meyer, Malerei (07.2005 - 09.2005)
Caroline Weihrauch, Malerei (07.2004 - 09.2004)
Walter Giers, Electronic Art (09.2003 - 01.2004)
Silvia Heger, Paperart - Objekte aus handgeschöpftem Papier (06.2002 - 09.2002)
Jörg Bach, Objekte und Frottagen (02.2002 - 04.2002)
Fritz Genkinger, Malerei (11.2001 - 02.2002)
Jakob Wilhelm Fehrle, Skulpturen (09.2001 - 11.2001)
Herbert Vogt, Malerei (07.2001 - 09.2001)
Esther Seidel, Skulpturen (05.2001 - 06.2001)
Patrick J. Steiner, Steinbilder (05.2001 - 06.2001)
Marlis Glaser, Striche, Tupfer, Arabesken (03.2001 - 05.2001)
Peter Lenk, "Kardinäle, Kurtisanen, Kapitalisten" (02.2001 - 03.2001)
Emil Kiess, "Und ewig lockt die Farbe" (12.2000 - 01.2001)
Walter Stöhrer, "Der Augenblick der Lust" (09.2000 - 11.2000) 
Miniaturen von Sepp Mahler, "Ich, der Lump" (07.2000 - 09.2000)
Daniel Kojo Schrade, "Brother Beethoven" - Neue kleine Formate (05.2000 - 07.2000)
Shmuel Shapiro, "Some Bigs" - Miniaturen (03.2000 - 05.2000)
Romain Finke, "Errata" (11.1999 - 01.2000)
Hubert Gaupp, "Bilder 99" - Goldener Oktober (10.1999 - 11.1999)
Summersale (09.1999 - 10.1999)
Walter Giers, "Electronic Art" (01.1999 - 03.1999)
Esther Seidel, Patrick J. Steiner, "Skulpturen" (10.1998 - 01.1999)
"Klassiker am See" (07.1998 - 09.1998)
Max Ackermann, Jakob Bräckle, Horst Beck, Karl Caspar, Maria Caspar-Filser, Otto Dix, Hans Fähnle, Eleonore Frey, Werner Gothein, Gottfried Graf, Hap Grieshaber, von Harlessem, Erich Heckel, Manfred Henninger, Julius Herburger, Emil Kiess, Werner Kreuzhage, Hans Lang, Wilhelm Schnarrenberger, Peter Jakob Schober, Leo Schobinger, Shmuel Shapiro, Rose Sommer-Leypold, William Straube, Herbert Vogt
Felix Hengge, Christa Schweizer, Ewald Wagner, "Wahrnehmungen" (06.1998 - 07.1998) 
Christine Dohms, Emil Kiess, "Multicolor" (04.1998 - 05.1998)
Martin Wernert, Dominik Zehle, "Zwei junge Maler" (02.1998 - 03.1998) 

Leo Schobinger, Retrospektive zum Einhundertsten (10.1997 - 01.1998)
"Accrochage" (07.1997 - 08.1998)
Max Ackermann, Emil Kiess, Harald Häuser, Shmuel Shapiro, Walter Stöhrer, Sven Gundlach, Herbert Vogt, Paul Kleinschmidt, Esther Seidel
Sibylle Werkmeister, Martin Rauch, "Exoten +Südfrüchte" (05.1997 - 07.1997
Romain Finke, "Gitterwerke" (02.1997 - 04.1997)
Eine Hommage an Jakob Bräckle zum 100., "Schnee in der Malerei des deutschen Südwestens" (11.1996 - 01.1997)
"INFORMELL damals – heute" (09.1996 - 11.1996)
Herbert O. Hajek, Georg Karl Pfahler, Andrés Markos, Harald Häuse
Sommer '96 (07.1996 - 09.1996)
Aquarelle, Gouachen, Öle von Meret Eichler, Dieter Franck, Wilhelm Geyer, Emil Kiess, Honest Schempp, Dorothea Schrade, Rose Sommer-Leypold, Herbert Vogt, Marianne Wälischmille
Otto Adam, Sepp Mahler, Erwin Henning, Walter
Herzger, "1901" (06.1996 - 07.1996)Julius Herburger

, 1900 - 1973 (03.1996 - 05.1996)

Herbert Vogt, "Figurative Malerei" (12.1995 - 02.1996)
Eugen Gromringer, Hermann Waibel zum 70er (09.1995 - 11.1995)
Esther Seidel, Patrick J. Steiner, "Skulpturen" (07.1995 - 08.1995)
"nach '45" (05.1995 - 06.1995)
Max Ackermann, Horst Antes, Klaus Arnold, Rudi Baerwind, Bernd Berner, Jürgen Brodwolf, Dietmar Büttner, Firtz Dähn, Hans-Martin Erhardt, Fritz Genkinger, Christine Gläser, HAP Grieshaber, Herbert Hajek, Erich Hauser, Erick Heckel, Axel Heil, Walter Herzger, Horst Egon Kalinowski, Herbert Kitzel, Hildegard Kress, Dieter Krieg, Rainer Küchenmeister, Uwe Lindau, Markus Lüpertz, Lothar Quinte, Günther Reger, Fritz, Ruoff, Heinz Schanz, Rudolf Schlichter, Isolde Wawri
Daniel Kojo Schrade, Harald Häuser, "Neue Malerei" (03.1995 - 04.1995) 
Lothar Schall, "Das Wesen der Farbe" (11.1994 - 01.1995)
Walter Stöhrer (08.1994 - 10.1994)
Emil Kiess (06.1994 - 08.1994)
Josef Hoffmann, "Recreation" (1994)
Hansjörg Glattfelder, Marcello Morandini, Anton Stankowski, "Das neue abstrakte Bild" (03.1994 - 05.1994
"Kleinode unserer Region" (11.1993 - 01.1994)
Gottfried Graf, Erich Heckel, Max Ackermann, Hans Breinlinger, Julius Bissier, Jakob Bräckle, Sepp Mahler, Curth Georg Becker, Shmuel Shapiro, Hermann Waibel, Emil Kiess, Diether F. Domes, Johannes Dörflinger, Thom Barth, Harald Häuser, Felix N. Bayer, Ingo Koblischek, Hans Nübold, Axel F. Otterbach
Johannes Dörflinger, Dieter F. Domes, Emil Kiess, Bilder - Objekte (07.1993 - 09.1993
Harald Häuser, "Malerei" (03.1993 - 05.1993)
Ebbe Weiss-Weingart, Goldschmuck (12.1992 - 01.1993)
Max Ackermann, Gemälde und Zeichnungen aus vier Jahrzehnten (11.1992 - 01.1993)
"Am Anfang war das Bild" (09.1992 - 10.1992)
Bernd Berner, Rolf-Gunter Dienst, Johannes Geccelli, Rupprecht Geiger, Hansjörg Glattfelder, Kuno Gonschior, Hermann Waibe
Informel (03.1992 - 05.1992)
K.O. Götz, Rolf Iseli, Markus Prachensky, Matschinsky-Denninghoff, Winfred Gaul, Bernard Schultze, Fred Thieler
"Das Gastmahl" – Europäische Speisezimmer (11.1991)
Hansjörg Glattfelder, Bilder und Grafik (09.1991 - 10.1991)