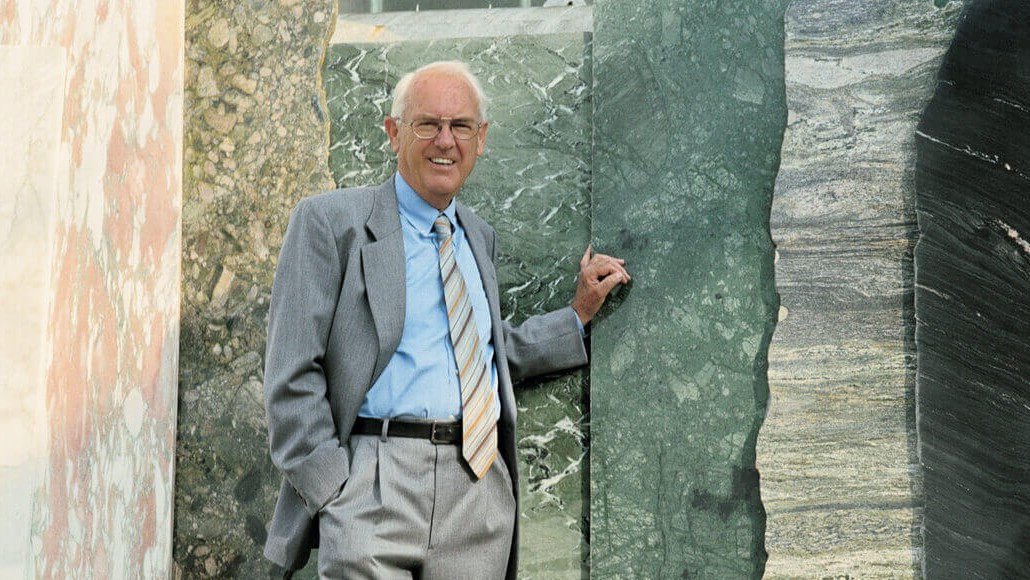 Dr. Peter Draenert
Peter Draenert (1937-2005) studied philosophy, art history, German and philosophy at the University of Tübingen.
PhD on Friedrich Hölderlin (1770-1843), one of the most eminent German poets.

In 1965 Peter Draenert happened to find a slab from oil slate with fossils on a farm in the Swabian Mountains.
He designed skids from polished stainless steel, because he wanted that table for himself. The very first Draenert-table, the model 1062 PRIMUS, was born and became a classics, because of its many ammonite inclusions, which point to an age of 180 million years.

That table was the basis for many table-families that were developed later and which established the DRAENERT style.

Philosophy; "A table must be more than just beautiful to look at. It is our responsibility as designer to give it a further dimension."
1968 he started, together with his wife Karin, his own company in Friedrichshafen, with main objective: Realisation of applied art, designer furniture and art furniture. Working with unusual materials e.g. steel, glas and natural stone.
1973 the company moved to todays company residence Immenstaad. During the years the company expanded again and again.

The four decades of his creative work had different emphases:
In the Seventies, the tables made from the government-owned material oil slate, became a worldwide sales success. This idea could be realised in cooperation with the Monuments Office of the state of Baden-Württemberg and the research team of the Museum Hauff in Holzmaden. 
Decisive for the success of the Eighties was the beginning, by the well-known Frankfurt architects Berghof-Landes-Rang, of the arts furniture series with the Frankfurt cabinets and bureaus with secret compartments. Some limited objects are now exhibited in leading museums such as the Metropolitan Museum of Art in New York and the Victoria & Albert Museum in London. DRAENERT wrote arts history with the Frankfurt cabinets and gives the brand international recognition. A further highlight of this decade was the cooperation with Ron Arad from London, Trix and Robert Haussmann from Zurich, David Palterer from Florence and Oswald Mathias Ungers from Cologne.

The Nineties were essentially characterised by conquering new dimensions in furniture manufacture. The rational, as well as the irrational motion were cultivated in this way. At this time, it was new for furniture and has been implemented for the first time in perfection in still lasting cooperation with the designer Georg Appeltshauser. The dining table ADLER stems from this decade, which has set new standards with its unique pull-out technology. Many more tables and chairs with functions have followed.

As from the year 2000, a further dimension came into play: Light – Light from tables. These were not only self-shining tables or illuminated tables, but tables as sources of light for a room. An art furniture series was created with Walter Giers: Light-kinetic objects with light and image changing, optical illusions, which dissolve themselves repeatedly and musical sounds controlled by a random event generator, without repetition. The tables have a meditative character due to the interaction with the light and image changes.

Movement was the motivation for all of Peter Draenerts designs. A dining-table should be extended easily with extension mechanisms and a coffee-table should at least have a swivel-plate or table tops with different heights.
At all these reflections, every piece of furniture should be distinctive and have a special Draenert style.
This Draenert style was the basis of his designs or briefings for other designers, that worked for Draenert. 
Awards
His furniture received many award.
MUSEUMS
His furniture can be seen in museums all over the world.